Stay With Us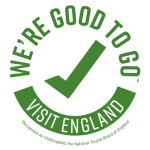 We want you to feel as relaxed as possible in our pub. Safety has always been important to us, and now even more so than ever. There are several new ways we have adjusted to maintain both yours and our team's health whilst you stay with us, ensuring we comply with Government guidelines. Just click here to see our Covid-19 procedure.
We have nine bedrooms – four in the converted Old Cottages (including one Twin) and five Ancient above the pub (including A Family Suite sleeping four, two Connecting Kings and two further Doubles). Due to the great age and Grade II* listing of the building for its historic significance, the rooms over the pub are quirky and delightful, but not terribly accessible to guests of less than full mobility. The Old Cottage rooms are also upstairs, but with wider and shorter steps up to them.
Please explore the gallery below, and let us know the Room number if you would like to book a particular room. We will do our best to accommodate you. As the saying goes, book early to avoid disappointment.
The Bear & Ragged Staff remains a pub rather than a hotel, so we don't have a "Residents' Lounge" or similar. What we have downstairs is a lively, classic English inn, where you are welcome to sit and watch the world go by or read the paper while village life goes on around you.